We're in that awkward holiday limbo period; we've wrung all the ghouls out of Halloween and aren't yet willing to start decking the halls (unless you're that overzealous neighbour who's had her house kitted out in festive gaud since October).  Thank goodness then for bonfire night, the night we commemorate an irate Catholic's failure to blow up Parliament by wielding explosives with reckless abandon. Cats cower, children run amok and shimmering explosions light up the sky in displays that rival even our neighbour's house. So with so many celebrations happening all over the country which ones are the best? Well we've scoured the internet to find out just that!
1. Lewes Bonfire Celebrations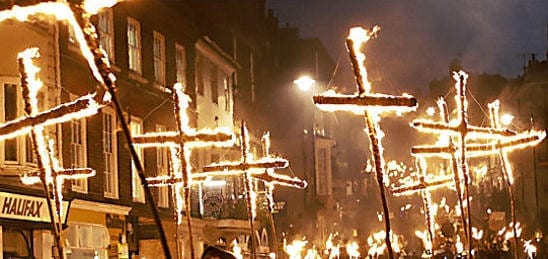 What do you get when you combine six bonfire societies, dozens of marching bands and seventeen burning crosses? Only the best bonfire event in the country! The usually peaceful town of Lewes in East Sussex has earned itself the nickname of the Bonfire capital of the world and it is not difficult to see why. All manner of celebratory mayhem has been transforming Lewes for over two hundred years and there are no signs of it slowing down. The celebrations culminate when gargantuan bonfires are lit on hills surrounding the town along with a humongous fireworks display to drive all that crazy home.
2. Ottery St Mary, Devon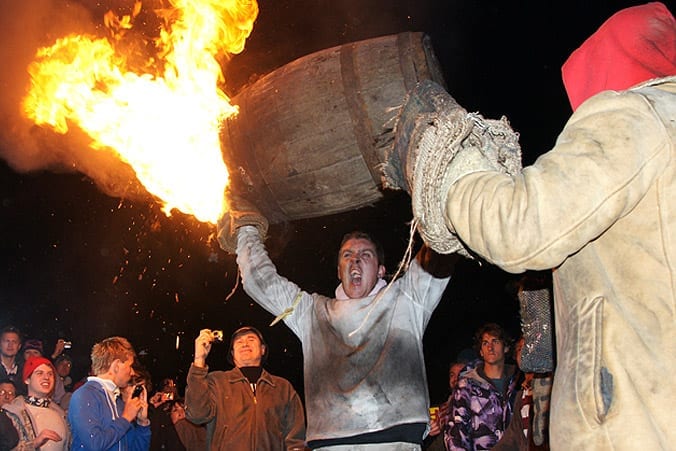 We'll give you the bad news first, there are no fireworks at Ottery St Mary. Now for the good news, instead of fireworks this small Devonshire town has an army of men, women and children who charge around lugging flaming tar barrels down the street. Awesome! No one quite knows where the balmy tradition came from, we imagine booze was involved. But believe it or not, simply rolling the flaming barrels down the street was the custom originally, until someone decided it wasn't quite hard enough and insisted on picking up the flaming hot barrel and pegging it down the street. The night is rounded off with a massive, and we mean colossal, bonfire complete with a blazing Guy.
3. The Lord Mayor's Fireworks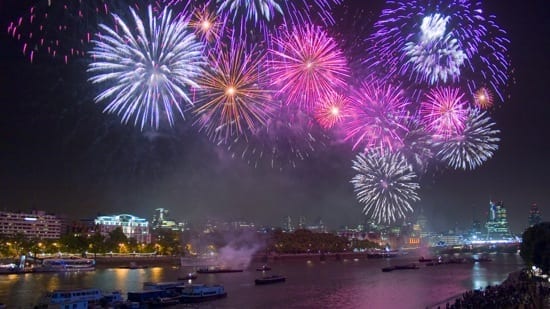 As you would expect, us Londoners are pretty spoilt for choice on Bonfire night; with pretty much every landmark from Alexandra Palace to Primrose Hill competing for our attention with enough fireworks to nauseate Disney. But where you really want to be is down by the river, Thames to be precise, watching the Lord Mayor's fireworks. To mark the start of the new Mayoral year, London lays on one of the biggest and most impressive displays in the country; including a grand flotilla and jubilant street procession. Just make sure you get there early to secure a spot, Londoners are not known for their reverence of personal space.
4. Swansea, St Helens ground display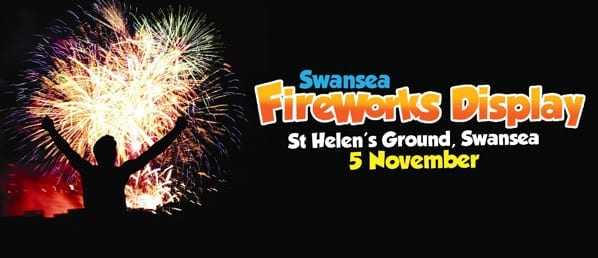 Okay, so this display may lack burley men sporting flaming barrels or a parade of burning crucifixes, but who wouldn't be charmed at the prospect of enjoying a whimsical fireworks display coupled with a bonfire on the beach? Swansea, that Welsh city that isn't Cardiff, hosts a fabulous night of beach-side bonfires and fireworks. For the families, St Helens Rec has performances from Britain's Got Talent finalists Bars and Melody, as well as the obligatory Frozen sing-a-long.  End the night on a high with a decadent burger on the beach; the ultimate seaside celebration.
5. Bristol Zoo Gardens

For those amongst us that appreciate the spectacle but less so the sound, Bristol zoo offers some toned-down fireworks that are both family and animal friendly. A fun experience providing the opportunity to view the zoo's animals in a different light; just make sure you don't go home with the wrong little monkeys!
Where are you spending this bonfire night?