Chocolate Blondies Recipe
When I mentioned that I was baking blondies this week, I was surprised at the number of people who weren't quite sure what blondies were. I adore blondies. To me, they are the slightly sweeter, little sister to the brownie – the same gooey middle and the same crunchy top, but with notes of butterscotch rather than dark chocolate.
Sources tell me that blondies actually came before brownies – and I'm always surprised that they don't have the same star-status. I'm hoping that this cracking recipe will rectify that and restore the blondie to its premier 'easy-bake' position. Be warned – these blondies are incredibly moreish!
Blondies begin in the same way as brownies, in that you melt the butter (rather than creaming it) before adding in the soft brown sugar and eggs. They are therefore a simple, one bowl affair. Additional ingredients are vanilla, flour and a pinch of salt. You can add texture to the blondie batter in the same way that you might a brownie – for example, with chopped nuts, dried fruit or chocolate drops.
Since I'm slightly addicted to Green and Black's Organic Thin Salted Caramel bars, I chopped up a bar and sprinkled it over the top of my blondies, swirling the chocolate in a couple of minutes after the blondies have gone into the oven. The result is a slight salty, crunchy chocolate swirl, which adds a little contrast in flavour to the sweetness of the butterscotch batter. You could do the same with any good quality dark chocolate bar. If you are a purist, however, and want your blondies to remain, well, blonde; try white chocolate instead.
The trick, when making either blondies or brownies, is not to overbake. 30 minutes should do the trick and you should still feel a bit of a wobble in the centre. Once out of the oven, as the mixture cools, you'll get that classic gooey centre. If for any reason you do over-bake them, don't panic. As I've discovered after many an oversight on time, they may just be a bit more 'cakey' in texture but will still go perfectly well with a milky cup of coffee, or even layered up into individual glasses with sliced banana and vanilla custard for an instant trifle.
I like to store my blondies, once cool, in the fridge. If they are not devoured straight away, they'll last for up to 3 days, covered.
So tell me, are you in the blondie or brownie camp?
How to Make Blondies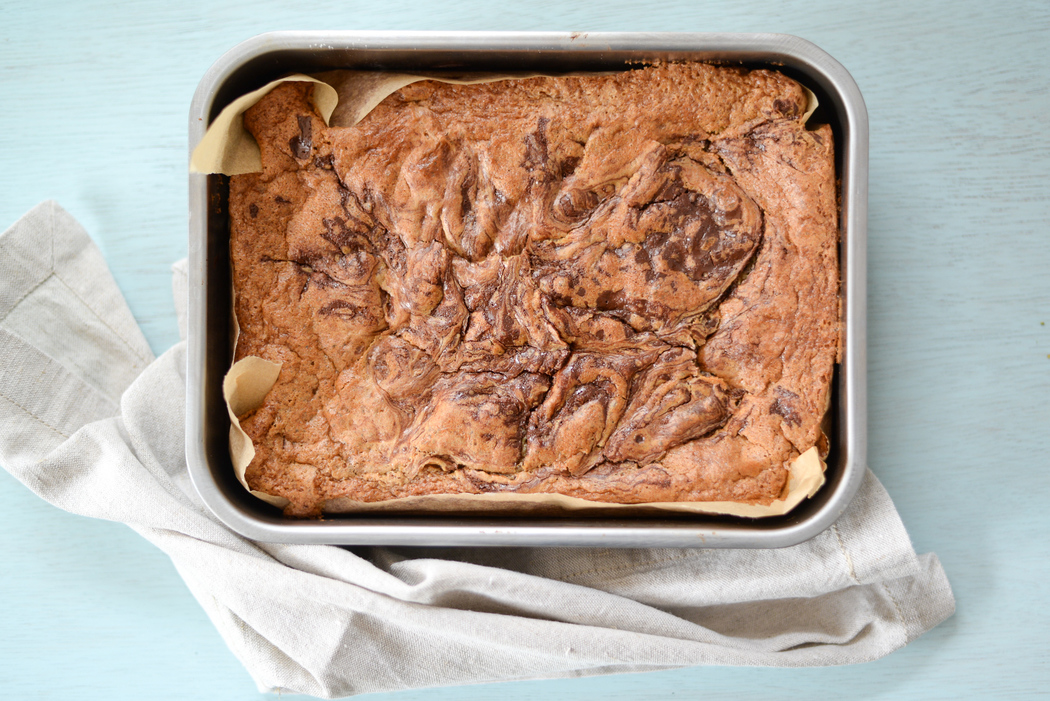 Serves: 12
Prep Time: 10 minutes
Cooking Time: 30 minutes
Ingredients:
225g unsalted butter
400g soft brown sugar
4 free range eggs
2 tsp vanilla extract or vanilla bean paste
150g self raising flour
A pinch a salt
100g Green & Blacks Organic Thin Salted Caramel bar
Method:
Preheat the oven to 180C/160Fan/350F/Gas Mark4. Line a 25cm x 18cm tin with baking paper
Melt the butter – either by placing it into a large bowl into the microwave for 40-50 seconds, or by melting it very gently on a low heat in a saucepan. Once melted, remove from the heat
Pour in the sugar and mix with an electric whisk, until combined. Crack in the eggs, add the vanilla and a pinch of salt and mix again until combined
Sift in the flour and fold in with a wooden or metal spoon until all the flour is combined. Pour the mixture into the baking tin
Chop the bar of chocolate into shards and sprinkle it evenly over the batter. Place the tin in the oven. After a couple of minutes, carefully take a knife and create some swirls through the now melted chocolate
Bake the blondies for 25-30 minutes. Remove from the oven and leave the blondies to cool in the pan for at least 15 minutes
Tip: Serve warm, or cool them completely and store them in the fridge
Enjoy!
Feeling hungry for more delicious desserts? Be sure to check out our latest quick and easy recipes including Rosewater & Earl Grey Kulfi, Super Easy Banana Bread Recipe or Lemon Meringue S'mores
————–
About Ren Behan


Hi there, I'm Ren Behan and I'm a British-born food writer of Polish descent based near London. I'm a mum to three young children (9, 6 and 2) and we spend lots of time in the kitchen. I mostly write about seasonal, family-friendly food on my blog.