If you've been enjoying ITV's Sugar Free Farm as much as we have, you'll be as excited as us to hear from the show's fab nutritionist Angelique Panagos…
When she isn't busy helping celebrities give up the white stuff, Angelique is a leading nutritional therapist, speaker, writer, total foodie and health crusader. And she's given us a recipe to share with you lovely lot!
"Forget the takeout. This warming dish has all the good bits with bonus goodness! Balancing steak and fragrant rainbow veg will leave you feeling full and oh so satisfied. It's so simple to make – a real staple in our house!"
– Angelique
Angelique's steak strip stir-fry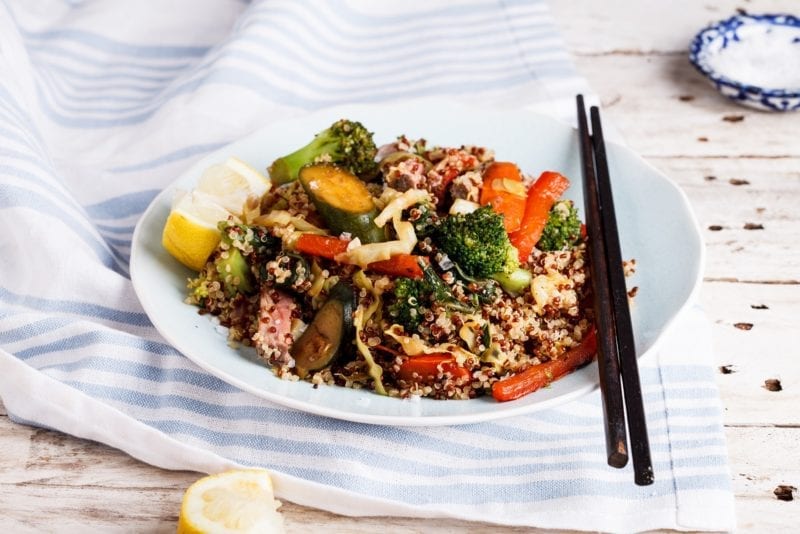 Serves 2
You will need:
2 cuts of beef (preferably grass-fed, around  180g each)
1 vegetable stock cube (preferably organic)
1 garlic clove
1 tsp chilli powder
1 tsp dried oregano
1 tsp paprika
1 tsp cumin
1 tsp baking powder
1 red onion
1 red pepper seeded and thinly sliced
2 courgettes thinly sliced
2 large carrots
1/4 cabbage
150g spinach
80g broccoli
2 tbsp sunflower seeds
½ cup quinoa (uncooked
)
salt
pepper
olive oil
Grate your carrots, finely slice your red pepper and courgettes and roughly chop your cabbage, spinach and broccoli
Add your quinoa to a saucepan with a cup of water and the stock cube and bring to the boil over a high heat
Reduce the heat to medium and simmer for 5-7 mins or until light and fluffy
Peel and finely chop (or grate) the garlic
Meanwhile, add 2 tbsp olive oil to a large, wide-based pan, add the garlic and onion and fry over a medium heat until golden brown
Add your steak strips and sprinkle the baking powder over the slices, turning the pieces a few times
Once the strips are sealed, add the vegetables and 1 tbsp olive oil and stir-fry
Add the salt, pepper, chilli powder, oregano, paprika and cumin as you continue to stir-fry
Once the vegetables have softened and the steak is cooked to your taste, add your cooked quinoa, scooping the ingredients up from the bottom of the wok, and cook for a further minute or until fragrant
Remove from the heat and serve, garnishing with sunflower seeds
Enjoy!
*
New to Gousto? Grab £15 off your first order by entering code RELISH at checkout